IMPORTANT NOTICE
Because of the Great East Japan Earthquake which occurred on March 11th, the operation schedule of SPring-8 from October to December has been changed considerably. Now the period of the Cheiron School partially overlaps with the user time. Since the beamline users have the highest priority for the SPring-8 Guest House, the rooms are not available for the Cheiron School participants after Oct. 1st.
The accommodation from Oct. 1st is "Aioi Station Hotel" (this web site is only in Japanese) just in front of Aioi Station. The room charge is approx. 4,500 JYP per night. (included breakfast). There will be a free bus service between SPring-8 and the hotel in the morning and evening. Please visit Facilities page for detailed information of Aioi Station hotel.
We apologize for the inconvenience caused by this necessary change. Your understanding and cooperation will be much appreciated.
TIME SCHEDULE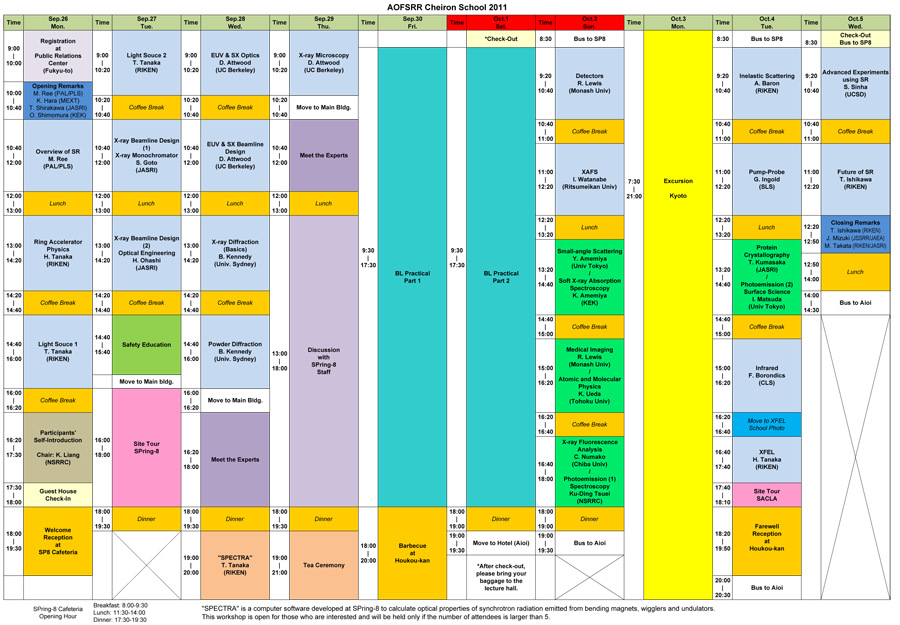 Last updated; September 16, 2011